Quick Comparison Table
How to Choose the Best Trail & Game Camera Under $200 on the Market?
Trigger Speed and Recovery
Photo and Video Resolution
Brand
Flash
Battery Life
Built-in Viewer
Memory
Price
Top Rated Trail & Game Cameras Under $200
#1 Bestguarder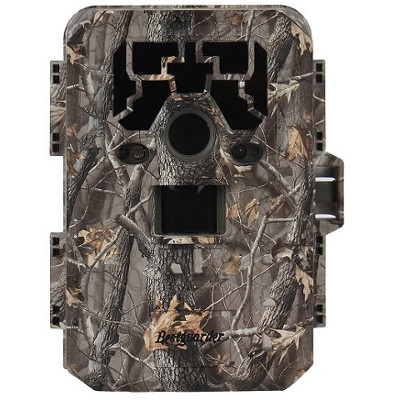 Pros
If the end product is important for your device, this is the one for you as you can enjoy 1080p quality. After connecting to a TV screen or computer, this will look simply amazing and because of the motion detector, the footage you do watch will all be worthwhile.
In the day, the picture will be as clear as you will ever want and need and thanks investment in certain technologies, the Bestguarder also produces stunning content from the evening too.
There are also a number of little extras that make this device a good investment such as the timelapse function, the fact that it picks up good quality audio, and that it is water-resistant (IP66); you can even visit their website in order to download animal sounds that will attract certain animals and keep your device secure when unattended.
What's more, the time stamp, usually kept at the bottom of the screen, not only shows the time and date but also the temperature, GPS Geotag, moon phase, and barometric pressure. If you search for this camera online, you will often see it listed as an 8-in-1 device and that is because it includes; HD full colour, HD video camera, motion detect, predator call, HD game camera, timelapse, alarm and PIR chaser, and a Wi-Fi camera with a TF card slot. The device also boasts a small 2 inch screen to view pictures/videos and it can be protected by a password.
Cons
The biggest drawback that can be found with this device is the limited angle or field of view that it uses to pick up movement; whilst on some cameras you will find that it can be up to 120 degrees, the Bestguarder has half that at 60/65 degrees.
If you are targeting a small area, this will not be a problem but if you are looking to cover a large field, this particular device might limit your ability to do so.
Of course, this feature can have benefits in that it can offer a more targeted approach and can provide extremely high quality for the area that it covers. However, if the PIR angle is an important factor for you, this needs to be considered.
Another drawback to this product is that the company itself offers very little customer support and those that have tried to make contact, have been left frustrated. If you ever have a problem, this could mean that you will be left to solve it by yourself.
Furthermore, there have also been complaints that the shutter speed can be slow at night, although it should still be fast enough to capture whatever has set off the motion detector.
The Bestguarder Game and Trail Camera costs around $179.99 and can be found mainly on Amazon. Bestguarder has a storefront on Amazon where it sells a number of its devices including this one, which is among the most popular.
In terms of its ratings, it is averaging around four and a half stars with 85% of users choosing to award it the full five stars.
Note: You may also find this device on various auction sites, like eBay, as well as in camera shops but Amazon seems to be the most trusted method of purchase. The site does offer 'Free Delivery' for Prime users or if not, there is a small charge for shipping to locations in the US.
With a 12 megapixel high quality resolution, with the option of reducing to 2/5/8 megapixels, this camera offers extremely clear pictures and videos. In addition to this, up to nine different pictures can be taken per trigger and videos can reach 1920 x 1080p
A sensitive PIR motion sensor means that even the smallest movements are picked up and you will not miss a thing during the day or in the evening; illumi-night sensor help photos taken after the sun disappears to be as clear as those taken during the day. Also, 42pcs Black IR LED allows full colour photos to be taken up to 75 feet away, which is a little farther than most others on the market.
Furthermore, the device has a slot for a TF card which allows you to increase the storage to 32GB. This means that you can increase the amount of snaps you can take of cold-blooded animals too as the device uses patented technology that allows cold-blooded animals to be captured just as well as everything else.
QDoes it flash at night?
AThe camera is 'no glow' which means that it doesn't flash when taking pictures.
---
QIs it noisy when taking pictures?
AThe device should not make a noise when taking a picture as it has been developed with capturing animals in mind.
---
QDoes it use a power adapter?
AThe device itself doesn't come with an adapter as it uses 8 x AA batteries. However, there is a cable for the solar panel or storage battery that is sold separately.
---
QDoes it come with a TF card?
ANo, the card has to be purchase separately; the device allows up to 32GB.
This Bestguarder device is a good piece of equipment when you consider the quality of the resolution and the distance that it can reach, but the lack of angle for the motion detector is a big downfall for people that need to cover a wider area. However, if you just need to fill your garden or a small piece of land, the amount offered should suffice!
If you are serious about photographing the animals in your garden, your local park, or anywhere else, you need a serious piece of equipment. With some devices offering HD, others offering an extending battery life and varying distances that can be shot, choosing the right one for your needs can be tough. For this reason, we have a series of reviews for the best cameras on the market and today, we have the Bestguarder Game and Trail Camera.
Check out what other people who purchased this product think about it. Read Bestguarder trail & game camera reviews.
#2 Flinelife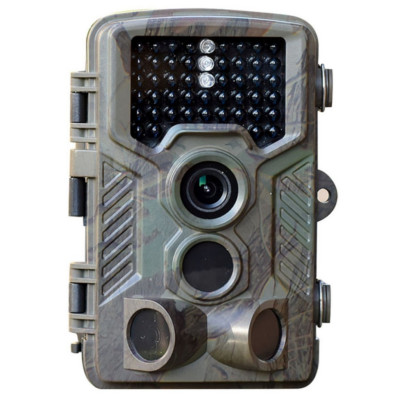 Pros
The main benefit to this camera is the extremely high-quality that can be found in the end product, in terms of both pictures and videos. Full HD recording in 1080p is not something that can be found with every camera and it makes for great viewing when projected up onto a computer or large TV screen.
In addition to this, some products tend to drop in quality when you start to reach a certain distance but the Flinelife HD camera stays strong for a long time before finally dropping.
Next, another obvious benefit is that it only records or takes pictures when something sets off the detector, which makes the whole process a whole lot easier. In the past, the only way to capture activity would be to set up a camera and leave it recording all night.
Now, as long as the settings have been set up correctly, you know that every single picture or video will be interesting rather than sifting through hours of nothing; we have heard that it can take upwards of 1,000 pictures in a week with 99% of them featuring an animal.
Also, some cameras tend to struggle to take good pictures when the sun goes down but this one thrives. The camera comes with a strap that can be used to attach it to a pole or a tree and then left to get to work; in the morning or when you next check, you will see that all the pictures taken at night are as clear as you will find.
With a 32GB micro SD equipped and an extremely long battery life, you can leave this device up for days or weeks before pulling it down and reviewing the footage.
Cons
As you can see, there are a number of amazing features on this device and the majority are better than those found elsewhere.
However, all this has to come at a cost. We will go through a price comparison in just a moment to look at where the cheapest price can be found but if we analyse the market, there are cheaper cameras available.
At $170, you are getting a lot of equipment and useful features but there are cameras under $100. Ultimately, this shouldn't be a problem though as the investment is a good one and you are paying for a higher quality, longer-lasting product.
In terms of the price, we mentioned previously a figure of $170 ($169.99 to be precise) and this is because that is the best price we have found it.
Although you may find the product from sellers on eBay or in local camera shops, we believe that the best option is through Amazon at the price listed above.
When ordering from Amazon, you will receive DHL Free Shipping which is an added bonus and the product also comes with a one year warranty.
With 12 megapixels and high definition capabilities, this device will record unbelievably high-quality videos. This, coupled with Colour Image Capture, allows the device to reach a resolution of 1920 x 1080p which is among the highest you will find.
With a sensing angle of 120 degrees and two PIR maximum, this Flinelife development is extremely sensitive when it comes to motion detection meaning that you will not miss a single piece of action. A basic trigger time of 0.6 seconds and a pre boot condition process of 0.2 seconds also makes this one of the fastest acting cameras on the market.
The device boasts 42pcs Black IR LED which means that full colour videos and photos can be taken in the daytime, whilst black and white videos and photos will look clean and crisp at night. Furthermore, the maximum reach will be around 65 feet.
A slot for a Mini SD card means that storage can reach 32GB and the device can also be fully protected using a password which is something that not all cameras have currently, giving you a sense of security.
Finally, it also offers a number of other small features including a 2.4 inch LCD screen to view photos and videos, a test mode, USB and video output, as well as a standby time of eight months when equipped with 8 x AAA batteries.
QIs it waterproof?
AYes, this product is water-resistant at IP56.
---
QIs there a timer?
AThis product does have a timer as well as the ability to timelapse, multi-shot, interval, and more.
---
QHow do I know when to replace the batteries?
AThere will be an alarm that sounds when the batteries are running low.
---
QCan I reduce the resolution?
AIf you want to reduce the quality of the video to then reduce file size, there is an option to choose 720p.
---
QDoes it date the pictures?
AA date and time will be placed at the bottom of the frame.
The combination of a long battery life and a micro SD card (sold separately) is a powerful one and means that you don't have to keep checking on it every day to see if it needs new batteries.
Then, when you finally plug it into your computer or look at the pictures and videos on the screen, you will be treated to a pristine and clear quality which makes it all worthwhile.
Yes, the price is higher than other options but you get what you pay for and this product returns the investment ten times over.
Game and trail cameras are constantly growing stronger and it seems like every year we are seeing introductions that are bigger and better than their predecessors; however, what are the best options?
With so many to choose from, it can be hard to know exactly what devices are better than others and in the end, all the numbers can become confusing.
For that reason, we have a series of in-depth reviews for you to look over. Today, we have the Flinelife HD Game and Trail Camera.
Check out what other people who purchased this product think about it. Read Flinelife trail & game camera reviews.
Related Guides