Quick Comparison Table
How to Choose the Best Trail & Game Camera Under $150 on the Market?
Trigger Speed and Recovery
Photo and Video Resolution
Brand
Flash
Battery Life
Built-in Viewer
Memory
Price
Top Rated Trail & Game Cameras Under $150
#1 Browning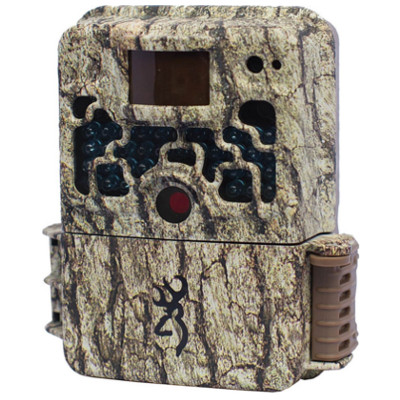 Pros
This Browning model offers a very serious piece of equipment for those that are serious about capturing wildlife as the motion detector ensures that any moving animal will be picked up in 0.67 seconds, as long as it is within 55 feet.
These numbers and stats are extremely impressive and this, coupled with the fact that it records in 1280 x 720 HD, makes viewing the pictures and videos all the more rewarding afterwards.
Furthermore, Infrared LED Flash will allow wildlife to be pictured at nighttime up to 100 feet away. With ports to connect to both the computer and TV, playing photos and videos back is a simple and painless process.
In addition to this, timelapse, multi-shot, rapid fire modes, and a whole plethora of different extras make experimenting more fun than ever.
In terms of the memory card, an additional SDHC/SD card can be added which can increase storage to 32GB. There are two main options when it comes to power, with 6 x AA batteries or an external 12V power jack both offering a healthy life.
Finally, a strap is included to connect easily to multiple locations in your garden, or wherever you need the device, as well as a port for a standard-sized tripod.
Cons
Firstly, it is important to note that there is no screen with this device which means that you have to take the card out every time you want to check what you have captured.
With some other devices, you are provided with a small screen which makes things a little easier. However, if this isn't an important factor for you, it is nothing to really worry about.
Secondly, some users have been left a little frustrated by the available settings as the camera has to run 24/7. If you wanted to record purely at night, you would have to remove the batteries or leave it unplugged but again, if you don't mind setting it up every night, this is another drawback that will not concern you.
These are the two main concerns that have been noted and, to an extent, it shows how strong the product can be because they are only minor problems that can be averted.
The market for this product is fairly competitive and it seems as though the big names want to stock the camera; for this reason, the prices do not vary greatly but different companies offer different things when it comes to shipping and extras.
Firstly, Amazon and Walmart are both offering this Browning model for $139.99 with free shipping. What's more, they also both come with a 16GB SDHC memory card which is extremely rare; with most other cameras, the card will be sold separately.
Although it isn't the biggest size you can get, it will still store a good amount of photos and will definitely work well until you decide to upgrade. Some people find that 16GB is enough whereas others prefer to go for the full 32GB and ultimately, it all depend on how often you will be emptying the card of all the photos and videos.
In addition to this, you will also find this device on eBay but not for a better price than the aforementioned two. Finally, overstock.com sells at around $170.
Firstly, if you are all about the image quality, this Browning model offers 10 megapixels which is a solid feature. Sure, there are options for 12 megapixels but there are also some cameras with 5 megapixels so ten should do perfectly.
Secondly, the device boasts a range of around 55 feet which is a good length and means that it can picture quite some distance away. Considering this micro trail model is small, as the name suggests, there is little to no chance that it will ever be spotted so the range will really come in handy.
You can also record in up to 720p along with audio which is considered high-definition, although not the highest, and will be more than enough to pick up a clear, crisp video. With Zero Blur Technology equipped too, you won't be left disappointed by any images.
It also has a CMOS Image Sensor/PIR Motion Sensor and has a trigger speed of 0.67 seconds.
QDoes the camera come with password protection?
AThis device does not have any settings for passwords. Although this means that anyone can walk up to your device and take the SD card from the slot, this isn't a problem if you are using it on private property. If you are in public, the small size of the device should keep it hidden from view which is, in itself, its own layer of protection.
---
QIs it rainproof?
AAlthough the manufacturer doesn't state that it is waterproof, it has been known to work in adverse weather conditions without a problem. Of course, care will need to be taken if you want to extend your camera's life.
If you are willing to forego the screen found on the slightly bigger devices, this is a fantastic product and one that will serve you well.
Many of the features seem to work together to provide a full HD picture and video quality which, when capturing animals, is an important addition.
Furthermore, the fact that most sites offer the product with a Sony SDHC card makes the purchase even better. Not only will you be getting a great camera, you will also receive all the tools you need to get going immediately.
Game and trail cameras are constantly being updated with new models being released every single year and it is fair to say that they are now reaching unbelievable heights.
With some boasting 1080p recording, a further range than ever before, and a wide angle for motion detection, the choice for the consumer is wide and varied. For this reason, we are reviewing some of the biggest names on the market and today, we have the Browning Strike Force Micro Trail Camera.
Check out what other people who purchased this product think about it. Read Browning trail & game camera reviews.
Related Guides