Quick Comparison Table
How to Choose the Best Trail & Game Camera Under $100 on the Market?
Trigger Speed and Recovery
Photo and Video Resolution
Brand
Flash
Battery Life
Built-in Viewer
Memory
Price
Top Rated Trail & Game Cameras Under $100
#1 Crenova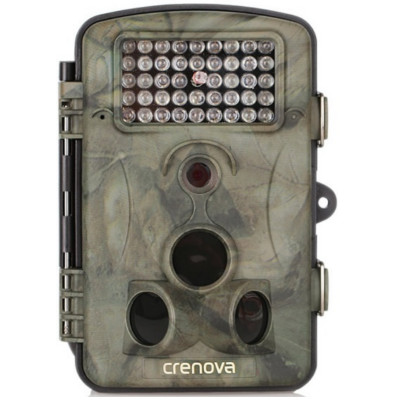 Pros
When it comes to benefits, this Crenova model offers them up in bundles and is one of the most popular options on the market as a result.
Firstly, the device only captures when activity is recognised meaning that the user doesn't have to scroll through hours of footage just to find one clip; with this device, you will know that every clip will be worth watching.
Secondly, the battery life is enough to drive anyone towards this product, especially those who are tired of running out of battery every single week.
With 8 AA batteries, the device will last for weeks which makes it great for trips away, if you know you are going somewhere you won't be able to pick up batteries, or for absolutely any scenario.
With devices that need charging often, you have to plan around this time period but this isn't the case with the Crenova Game and Trail Hunting Camera.
Furthermore, when it comes down to the picture quality itself it really excels. The device has been known to struggle when it comes to dusk and nighttime but the infrared and night time vision shouldn't make this too much of a problem.
During the day time, video can record at 1080p and images can reach 12mp. In terms of file type, the two main options are JPG and AVI which is extremely useful or easily converted if your requirements are different.
Cons
Problems have been recorded with this item with some arriving broken or 'dead' and others having problems with particular functions but the manufacturers are normally quite quick in solving any issues.
In addition to this, many customers have complained that the instruction manual is fairly limited and can be quite confusing to the beginner but again, Crenova has been known to send out more expansive manuals if this is the case.
Another problem that users have encountered with this product is the lack of operation when something comes in front of the screen; for example, even if something were to be in the frame the device would not record which can become frustrating.
On the whole, the product has a number of useful features and does work as expected; for a product that can be found for under $100, it can be a great piece of equipment.
The Crenova Game and Trail Hunting Camera is relatively cheap compared to some of the other models on the market and can be found under $100 on Amazon.
With the purchase, you will receive the trail camera, mountain strap, a manual, a USB cable, and an AV cable; this is a good selection of equipment for under $100.
The Bestguarder HD is around $160 on the same website and offers many of the same features; however, it is important to note that there are also cheaper options on the market so the investment would be a good one.
This Crenova camera is in the mid-market but cheap enough for beginners and experts to enjoy alike.
Users will have 5.0 megapixels to put to good use and built-in 42pcs LED meaning that it has a reach of around 20 meters night time vision.
Two PIR design that allows a sensing angle of up to 120 degrees.
Easy-to-use interface and can be equipped with an SDHC card with up to 32 GB of memory allowing for numerous wildlife pictures.
Time Lapse and Flextime technology, Redux anti-blur, and a system to control exposure which allows clean, clear, high-quality images.
Perfect night or day thanks to a wide angle 16:9 aspect ratio.
Supports numerous extras including; alarm when the battery is running low, password protection, timing photos, timelapse timer, multi-shot, and interval.
Finally, battery life has been known to reach 6 months with 8 AA batteries and a 1 year protection is provided even after an IP54 waterproof system
QHow effective is the waterproofing?
AThis product can be left out in the rain, however if you want to be sure a cover may be useful.
---
QWhat is the trigger speed?
AThe trigger speed is around one second.
---
QDoes it 'flash'?
AIt doesn't flash as per a regular camera but there is a faint red glow.
---
QWhat are the appropriate ranges?
AIn day time, it will focus between 1m and 20m. At night, it focuses a little further back at 3m but still reaches 20m.
---
QCan it be used indoors?
AAlthough the product thrives with nature outside, it should still be able to work just as well inside.
---
QHow does it sit?
AIt comes with a strap that can be attached to a tree/pole.
When it comes to game and trail hunting cameras, this is a solid option and one that can be enjoyed for some time to come.
Firstly, the amount of variables that can be changed makes the camera exciting and leaves users with multiple ways in which to interact.
For example, the interval can be set between one second and an hour, the video length can vary between 30 seconds and ten minutes, and finally the megapixels can vary from 5, 8, and 12.
Furthermore, the night vision means that you can catch all the animals lurking when the sun goes down and the 120 degree sensor allows for a wide window for which animals can enter.
Finally, a long battery life and built-in monitor finish the product off perfectly. If you are looking for a camera of this type, this one is definitely worth a go!
With technology constantly moving forwards, we are seeing better, more efficient products and models hitting the shelves every single year.
One market that hasn't escaped this fact is the game and trail hunting camera market; products here are constantly growing stronger and it can be hard to know exactly what the best options are. Today, we have a review for top 6 trail cameras that have very quickly risen in popularity.
Check out what other people who purchased this product think about it. Read Crenova trail & game camera reviews.
#2 TEC.BEAN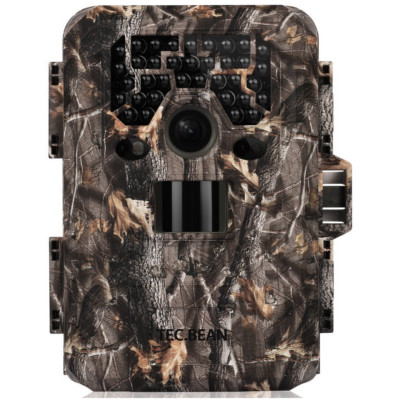 Pros
The main benefit of this device as oppose to others is the high quality of images and pictures; due to recent advancements in technology, we are starting to see HD devices more and more but not all products can boast the feature just yet.
If you put the TEC.BEAN camera up and create the settings you desire, the device will capture every animal that passes through that strip of land and because of the 1080p quality, it can be extremely rewarding to just sit and watch what has been recorded.
Furthermore, the fact that it can shoot perfect pictures when the sun goes down gives it a huge advantage over those that struggle with this particular feature. Over the years, taking clean pictures at night has been a problem for many companies but TEC.BEAN seems to have negotiated this hurdle very well.
In addition to this, the varying capture modes also make the whole process enjoyable and can lead to various experiments. With motion detection, video, photo, timelapse, and hybrid, you will be sure to find the right settings for your needs. Overall, the advantages of this model speak for themselves and it is even waterproof (IP66)!
Cons
Despite the many positives, there has to be some negatives to balance it out, right? From what we have seen, heard and experienced, the only problems encountered so far seem to be very small and only affecting a small handful of people.
For example, sometimes the video glitches and jumps around and a small percentage of people have recorded corrupt files but this can happen to any camera. All cameras can encounter these two problems at one point or another, the important thing is that it doesn't happen regularly enough to cause a major issue.
Furthermore, the position of the screen has caused minimal problems, as has the sensitivity of the motion detector. However, with regards to the sensitivity, it doesn't normally pickup tiny movements caused by wind but if there is a strong breeze blowing in and it is moving items in the field of view, it has no choice but to start recording.
In truth, this function works correctly for the majority of the time which leads to an enjoyable experience. As you can see, all of these problems are both small and rare which is great news for the camera. If you are interested in picking one of these products up, you will need to know the price so let's have a little comparison.
This particular unit comes in at around $139.99 which, we think, is an outstanding price for such a piece of equipment. As always, Amazon comes out on top with free shipping and the fact that it is a secure site.
Buying equipment like this can be difficult at times because some sites might offer it for a similar or lower price but you can never be sure of the security.
With Amazon, one of the biggest sites in the world, you know that you are in safe hands and will receive the package in good time.
We did find the TEC.BEAN Game and Trail camera on 'Home Security Unlimited' and eBay but the price was exactly the same, if not a little bit more.
This device offers full HD with 12 megapixels and 1920 x 1080p video recording, meaning that you will get the clearest possible pictures and videos. If you are looking for a second device after previously purchasing a 'beginner' piece of equipment, this is a great step up as your pictures will be crisp and pristine.
Up to nine different pictures can be taken per trigger and the trigger itself takes around 0.6-0.8 seconds to jump into action. Not only will you be receiving a high quality, the device will react extremely quickly so nothing will be missed.
This TEC.BEAN product is also equipped with 36pcs 940nm Black IR LED which makes nighttime pictures look clearer than ever before. With some devices, you can never really be sure how good the nighttime picture quality is but here, we have a device that has been implemented with some of the best technology. Photos in the day will be in full colour and in the night, they will be black and white.
Furthermore, if you were looking to cover a large piece of land, this device can compete with the best by reaching 75 feet. In addition to this, the use of patented motion freeze means that even the smallest animals will be picked up (even cold-blooded animals). It is important to note that it also reduces 'inadvertent shots' like the leaves or grass blowing in the wind.
Finally, a small 2 inch screen will allow you to check any pictures/videos that have already been taken. Also, it holds a wealth of important information including the moon phase, barometric pressure, GPS geotag, time and date, and temperature.
QCan it be used indoors?
AAlthough the product thrives with nature outside, it should still be able to work just as well inside.
To put it simply, this device has it all; it has a high quality motion detector, maximum distance, and video playback.
If you are looking for a device to take you to the next level, this could be the one for you (especially if you love to watch your chosen area in 1080p afterwards).
With the price of SD and SDHC cards coming down every single year, this additional purchase is not really a problem anymore and will only set you back around $10.
With 8 x AA batteries and a 32GB SD card, you can leave the thing running for a long time before finally checking what it has picked up!
We have now completed a number of reviews on game and trail cameras and hopefully, you are now getting an insight into the best devices and how they compare both in features and price.
Today, we have a product developed by TEC.BEAN so without further ado, let's head into the main features.
Check out what other people who purchased this product think about it. Read TEC.BEAN trail & game camera reviews.
#3 Moultrie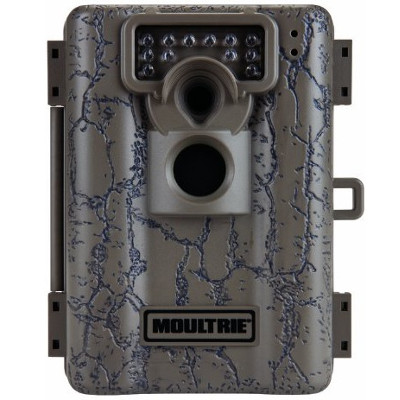 Pros
One good thing about this Moultrie device is that they have got the basics right; setup can be quick and it offers all the basic features that are required in a game camera.
Furthermore, the slot for an additional SD card of up to 32GB means that it will hold a wealth of pictures before needing to be checked; with a 5 megapixel camera, the device should be able to hold more pictures than its competitors.
In fact, with 4 x C-cell batteries, it has been known to store over 8,000 images. If all you need is a simple device that will take clear pictures with not too many bells and whistles, this is definitely worth a go.
Due to the long lasting batteries, you can attach this product to a tree and check on the photos every week or so which makes it perfect for people who aren't too serious, want to buy a 'beginner' device, or even just want to buy a game camera because it can be fun for the children.
In addition to this, it has a strap which can be tied to a tree or a pole keeping it stable and even has the ability to be used with Python cable. Finally, the fact that both pictures and videos can be taken up to 50 feet away is a huge bonus for those who want to cover an area of this size.
Cons
Firstly, the opening model of this device has been discontinued but there are now newer models that do near enough the same job. Moultrie seems to be targeting a certain section of the market and has kept the product near enough the same, but still updating a few features.
Furthermore, if you want to take this seriously and want high-definition photos and videos, this device simply isn't going to do it for you. It will provide clear pictures, however the 5 megapixels cannot offer as high a quality as the 12 megapixel options.
Also, there have also been a good amount of people that have struggled to get the device working altogether. When they have been contacting customer support for some help, Moultrie will do not anything without a gift receipt which can be a problem if you order online.
Ultimately, this is designed and developed for simple tasks and for people who aren't too serious about what they need a camera for.
For that reason, if you are looking for your second device having already purchased another model, you may want to look for something a little more expensive that can offer more features and more options to edit/adjust.
As mentioned previously, the older model has been discontinued and can only really be found on sites like eBay and Amazon with the price at just under $200.
However, the newer model which boasts many of the same features just with an updated design, is far more affordable. Here are the list of options we found for the newer version of the Moultrie A5 Game Camera;
Older version (Amazon) $124.99
New Model (Amazon) $59.99
As you can see, the price is extremely affordable for a starter game camera with Amazon providing the best option as far as price goes!
With a 5 megapixel camera, this device will be able to take good pictures. However, it doesn't compare to competitor's products which can now reach 12 megapixels. The Low Glow feature will be useful in the nighttime as well as the 50 foot range thanks to nighttime illumination.
When it comes to the IR LED Infrared, a range of 850nm can be reached.
This device also boasts a picture delay of up to 5 minutes which can be extremely useful; 10 seconds, 30 seconds, and one minute options are also available.
Finally, the time stamp in the corner of each and every picture makes it easy to know a number of details regarding when the picture was actually taken. Not only does it show the date and time, it also has the camera ID stamp and that particular moon phase.
QDoes the device come with a strap?
AYes, the strap will come with the initial package and can easily fit 14 inches in diameter with some to spare.
---
QCan it take pictures automatically?
AYes, pictures can be taken automatically thanks to motion detection. As soon as something moves in front of the frame, the camera will spring into action.
---
QDo I need to format my card?
AAny SD card should work straight out of the packet and shouldn't need any formatting whatsoever.
---
QCan I stand it on a tripod?
AThere is a port on the bottom of the device that allows it to be attached to standard- sized tripod.
---
QWill it work in the rain?
AAlthough the manufacturer doesn't mention any waterproof capabilities, this camera has been known to work in the rain. However, care will need to be taken if you want to keep it in top condition.
As we have said, this is a great camera for those of you not looking for anything too serious and just wanting to record the back garden every now and then.
If you are looking to increase your game by getting a device that will record in 720p/1080p, you will need to look in a higher cost bracket. Overall, it is a solid, basic product!
In this series so far, we have reviewed a number of high-quality game cameras so you can quickly compare different features offered on devices as well as their prices.
Today, we have the Moultrie A5 Low Glow Game Camera which is a popular item having been reviewed over 1,200 times on Amazon.
However, it has been discontinued so is no longer produced by the manufacturer; there is a newer option available though. In terms of its price, it comes in at around $70. Let's start with some of the key features.
Check out what other people who purchased this product think about it. Read Moultrie trail & game camera reviews.
#4 Outdoortop SW0080P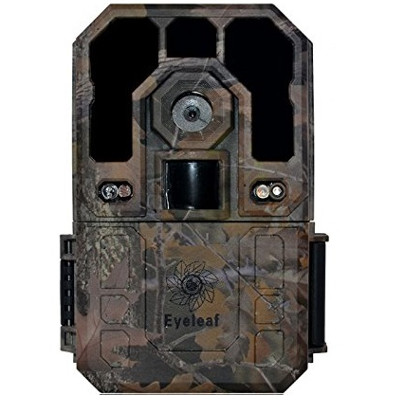 Pros
The ability to add wildlife and predator calls to the camera is an excellent way to customize it for your particular hunting and scouting needs and is an option offered on this camera.
Long distance night vision coupled with an invisible infrared LED flash keeps night shooting discreet while creating clear shots.
Cons
The short battery life may hinder its use in remote locations or when using for security purposes. There are other charging options such as a solar panel, but that must be purchased separately.
The HD 1080p Video Long Distance Night Vision Camera can be found at Amazon for the very good price of $129.00 and can be shipped quickly.
Other retailers like Home Security Unlimited and DigitalWaterproofCam.com are selling it for around the same price. However, Amazon also offers easy returns and an easy and trusted ordering system.
Trigger Time is 0.6-1s
Waterproof IP 54
Power Supply: 8 x AA Batteries or 12V DC(not included) or solar panel
940nm Invisible Infrared Black LED
USB port
Built In 2.0″ Color viewer TFT LCD
12MP=4000X3000/8MP=3840×2106/5MP=1080X1080(JPEG)
HD: 1920 X 1080,1080 X 720
TF-card or SD card up to 32 GB(not included)
Game call and Predator call
HD 1080P (1920×1080) video
Digital Zoom 2x,3x,4x
12.0 Mega Pixels Resolution, 2/5 /8 /12MP
Stand-by time: Up to 6 months with 8 AA batteries
1080P/12MP infrared
QHow far away can a subject be in order for the camera to detect it?
AThe camera detects motion and subjects up to 75 feet away.
---
QDoes the camera trigger quickly when motion is detected?
AThe camera has a quick .6 to 1 second trigger time for shooting.
---
QWill the camera record audio as well as video?
AYes, the camera records the audio along with the video.
This camera features long distance night vision and is great for capturing wildlife anytime day or night. It can serve as both a trail and hunting camera and for security and surveillance purposes.
It is available on Amazon for around an affordable price of $129.00. DigitalWaterproofCamera.Com and Home Security Unlimited also have it for sale for about the same price. It shoots in 12MP producing bright photos and 1920×1080 for clear video shots.
Behind the hinged door are the controls and a mini LCD screen for adjusting settings by using the various menus. The LCD screen can also be used for viewing recently taken photos and video. Several other options on the menus include the date and time, resolution, video length, and longitude and latitude.
It uses a 940nm invisible infrared black LED flash for shooting black and white photos at night and provides full color shots in daylight. The camera is housed in a camouflage case for easy hiding and has a rubber seal to keep the interior safe from water and moisture and can withstand inclement weather.
The HD 1080p Video Long Distance Night Vision Camera also features the option to add various game calls to bring in wildlife, as well as a predator call to keep certain animals away. It also has a test mode that can be used for setting up shots properly. Settings are available for time lapse shooting, camera, or camera and video shooting.
One of the cons for this camera is short battery life. It tends to eat through batteries, but it does offer other options for power, such as a 12v barrel plug adapter, although that limits portability. The camera can also connect with a solar panel to charge.
Check out what other people who purchased this product think about it. Read Outdoortop SW0080P trail & game camera reviews.
#5 Bestguarder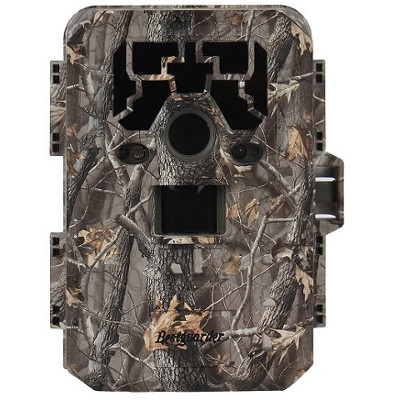 Pros
It can shoot at longer distances clearly, up to 75 feet, in comparison with other cameras in its class. It can also shoot at 2MP to help preserve battery life when out in the field.
In addition, the camera does do a good job of taking nighttime shots. The picture quality is definitely one of the major selling points for this camera. It uses a 36 Black IR LED that works very well shooting at distances up to 75 feet.
The Hybrid mode allows the camera to shoot pictures and video at the same time and will still produce top quality images and video without blur or grainy looking film.
Cons
A major complaint against some of these types of cameras is the short battery life. This camera allows you to adjust the MP settings down to 2 therefore slowing down the battery use.
The camera does shoot daytime video that can be a bit grainy if lighting is not perfect or the subjects are moving too quickly. Also, it only offers the photos in black and white at night time shots.
While several online retailers such as Tactical Survivalist and Home Security Unlimited are currently offering the camera for sale at $159.00, Amazon also has the camera available in stock for $159.00 as well.
Amazon offers additional purchasing benefits like one day Prime shipping and easy returns.
2.0″ Color viewer TFT LCD Display
12.0 Mega Pixels Resolution
PIR at 65 degrees; PIR detection
Lens is F=2.4; FOV=60 degree;Max View 62 degree; Auto IR
Infrared Cut Filter; Motion detection
SD-card memory card up to 32GB;
Language: 7 languages
12MP=4000×3000/8MP=3840×2160/5MP=2944×1656/2MP=1920×1080
Digital Zoom: 2X, 3X, 4X
Password protected; Web camera function
HD at 1920×1080,1080×720,24fps AVI
Time lapse; 12V DC external
Shooting Numbers 1-9 programmable
Audio Recording; Camera and video option
Video Length: 5-90sec. programmable
Date, time, Moon Phase, temperature, barometric pressure, GPS longitude & latitude, Camera ID
8 x AA Batteries; 11.99 oz weight; Waterproof spec: IP66
IR-LED: 36PCS/940nm black IR LED flash from 0-23m/75ft
TV out; USB port; SD card slot
Camera Size is 5.12×3.54×2.36 inches
Trigger Time: 0.6-0.8S; Triggering Interval: 1sec. – 60min.
QCan this camera use solar power for charging?
AYes there is a jack on the camera to attach a solar panel for charging.
---
QAre GPS settings on the camera automatic?
ANo, GPS settings need to be entered manually.
---
QDoes the camera emit light that can be detected?
AThe camera emits only a faint red light that is hard to see outdoors.
This camera can be found on online retail websites such as Tactical Survivalist and Home Security Unlimited for sale at the price of $159.00.
You can also purchase this directly from Amazon for the same price, making this an affordable camera for all the features it offers. The additional Hybrid capabilities also make it worth the price.
Video shoots from the camera at 1920x1080p for greater clarity. Video lengths can be set to record up to 90 seconds long. The camera can be hooked up to an HD television for viewing both photos and video.
The camera is powered by batteries or can be connected via a power plug. Variable resolution settings allow for 8MP, 5MP and down to 2MP (other cameras often only go to 4mp) to help preserve battery life.
Although it's not considered a compact camera, it has a nice little size good for use in many situations, but it is a bit heavy at 1.5 pounds. It is waterproof and has a sturdy camouflage case.
The camera only shoots in black and white at night, which can be a con for many buyers. It's also a bit on the heavy side, making it a bit less portable and harder to manage.
Check out what other people who purchased this product think about it. Read Bestguarder trail & game camera reviews.
Related Guides